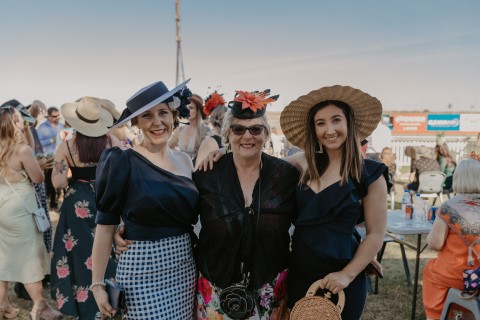 Welcome to the Port Hedland Turf Club, the jewel in the crown of horse racing in the Pilbara.
Established in 1902, the Port Hedland Turf Club has a long, colourful and proud history as the Pilbara's premier thoroughbred racing club. Integral to the Town of Port Hedland's distinctive character, the Port Hedland Turf Club is unique in being one of only a handful of dual surface racecourses in Australia, with 1100 metres of hard pindan leading onto 700 metres of grassed track including the home straight.
Commencing each year in May, the Port Hedland Turf Club hosts six race meetings over what is considered the best time to visit the Pilbara region. Building on the momentum of the first four race rounds, the Port Hedland racing season reaches its crescendo, culminating in the running of two of the most prestigious race meetings on the Pilbara's racing calendar being Port Hedland Ladies Day and Port Hedland Cup Day.
Ladies Day is the penultimate race meeting of the Port Hedland Racing season and has long been a drawcard for the Pilbara's racing fraternity who don their finery for an elegant and entertaining day out at the races. With its recent inclusion as one of only nine regional heats for Racing and Wagering's flagship Country Cups Fashions on the Field competition, Port Hedland Ladies Day attracts fashionista from around the region and beyond for a chance at a final prize pool worth over $25,000 in what is becoming one of WA racing's most sought after events.
Port Hedland Cup Day caps of what is regarded as the best series of racing meetings in the region. Owners, trainers and jockeys from far and wide come together to contest the highly sought after and coveted Port Hedland Cup whilst patrons, punters and the community gather to celebrate the end to another spectacular season of racing in the Pilbara. Held during Port Hedland's nod to the Queen's Birthday long week, the Port Hedland Cup Day is a race meeting not to be missed.
Located within close proximity to the world's largest bulk export tonnage port and with a backdrop of some of the longest trains on the planet, it's no wonder the Port Hedland Turf Club has a larger than life persona. Offering onsite TAB, bar and catering facilities, shady members section and a grassed general admissions area the Port Hedland Turf Club aims to bring the most welcoming and entertaining racing season to its patrons and tourists to the region.
We look forward to seeing you at the #PortHedlandRaces!